Register
Registration is closed for online reservations however if you go to any one of our On Location Registrations, we would be happy to get you signed up for trails. Please note that some trails will be sold out, so show up to registration with 3 options for trails that day. Scroll down to the bottom of the page to see trails that are available during Trail Hero 2023.
On Location Registration is located here:
Monday Night, October 2nd: Yukon Gear and Axle Kick Off Party at Sand Hollow Resort Rock Bowl 6pm - 9pm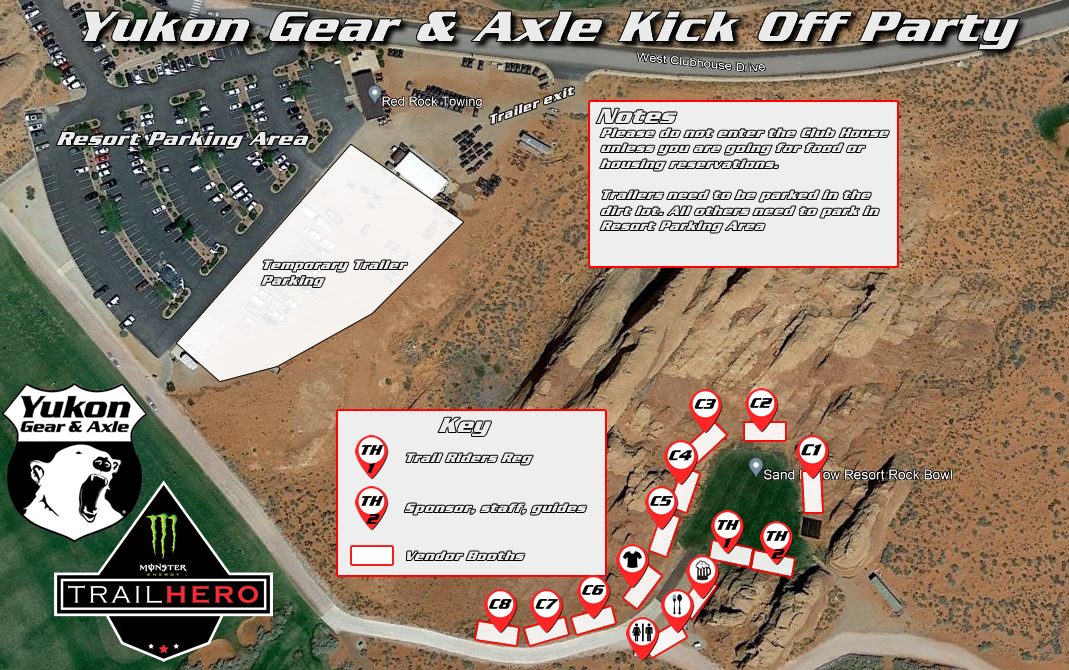 Tuesday through Saturday 7 am to 10:00 am
Location: Sand Hollow Resort Clubhouse: 5662 West Clubhouse Drive, Hurricane, UT 84737
Same Day/On Site Registration opens each day at: Morning Shift Tuesday through Saturday 7 am to 10:00 am ::: No Evening Shift in 2023
We are excited to have you on trails wheeling with us! Here are some quick links to find out more information:
Thank you for participating in the off-road industry's newest and hottest event, Trail Hero. Our lands are always in jeopardy and without your dedication to the off-road industry, the possibility of losing our lands become greater.
Our trails are listed with search functions to make your decisions easy. On the left of the screen you'll find the days of the event, Trail Rating, and Difficulty. If you would like to find out more info on the trail, click the "i More" button on the right of the Trail Name. Select which way you would like to narrow your search. Once you find the trail that you like, add it to you cart. After you have found all of your trails, feel free to check out or look at our "TH Store" for great Trail Hero merchandise and event appearal.
From there, just check out and your registration is complete. You will receive an e-mail roughly 2 weeks from the Trail Hero event with a confirmation on your trails, along with where they meet, the Trail Departure Time, etc. The info will look like this:
Date: Wednesday, October ## 
Time: 8:30 AM Staging, Departure at 9 AM
Location: Lonny Boy's BBQ - 980 State St, Hurricane, UT 84737 
Trail: West Rim Trail
Rated: 4 with optional lines up to Buggy Obstacles 
As a guide for your trails there are difficulties and ratings, for your convenience we suggest the participant rigs are built similarly to the vehicles below.

Thank you once again and we can't wait to see you in October.