FabFours Trail Breaker Challenge

The teams that complete the trail are surely the top drivers in the world. The amout of skill it takes to complete the trail takes extensive knowledge on how to push their vehicles to the extreme and beyond. This is no trail for the faint of heart as it forces drivers to take immense risks that could have ended that driver's vehicle. It isn't a matter of being able to wheel the rest of the weekend, but more like the vehicle would have to be scraped and dismembered to get them out of certain obstacles.
Take the top 8 drivers in the world and present them with a trail that is so difficult that it has never been conquered. This insane new competitive format will invite only the best drivers in the game, and feature an exclusive look into what it takes for top drivers to defeat the impossible. This feature has quickly developed into an exciting venue for everyone from the most extreme and hardcore enthusiasts to the average weekend wheeler warriors to watch the most daring drivers in the sport.
This new outlook in the sport allows for no judges, cones, penalties, or spotters, and allows for the terrain to be the determining factor on the difficulty. Boundaries will be set for spectator safety and a given time limit for each obstacle will be displayed. Drivers must defeat the obstacle within time to receive their score (Obstacle score based on difficulty), the driver with the most points will win, with the tie breaker being cumulative time throughout the entire course. 
The twist to this new sport? Drivers will not be able to watch each others attempts. With every vehicle, driver and style being different, this is sure to add to the excitement.
This feature will be held Friday, October 5th in an undisclosed location... Location will be released the day before the event for drivers to walk and put together a game plan.  
In the mean time, let's meet the drivers invited to the battle it out.
#1 - Jeff McKinlay (Auto Invite to the next Trail Breaker due to 1st place finish)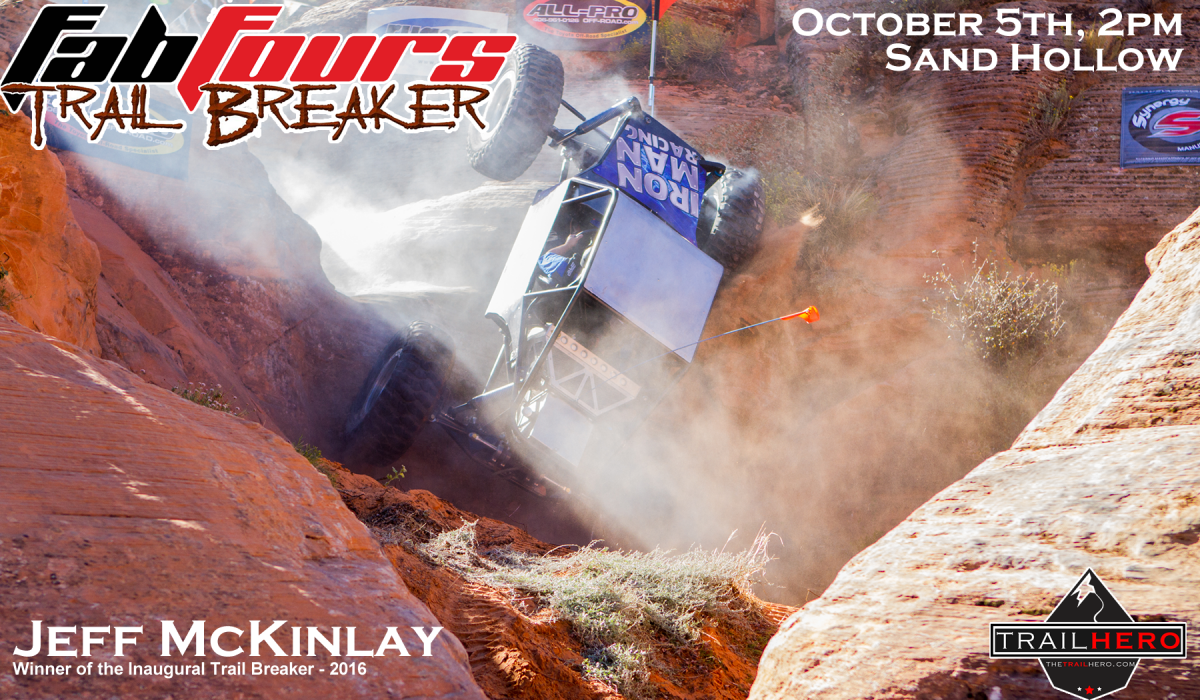 Jeff McKinlay completed the entire course with the fewest errors resulting in the quickest time. Local to Rigby, Idaho; Jeff has been living "off-road" for well over 25 years whether it be in a Rock Crawler, on a Motorcycle, or a Snowmobile. McKinlay has also broke open new trails at the Hammers, Moab, Sand Hollow, Arizona, and Idaho. Driving a new Red Dot Engineering buggy, McKinlay may not have the notoriety that some of the other drivers do, but he definitively has the experience on some of the hardest trails in the country.  Jeff rightfully was granted the ability to name the trail that he won the first Trail Breaker event on. IRON MAN is now the name of the toughest trail at Sand Hollow.
Who will the other 8 spots go to? check out the Trail Breaker Facebook Page here for more info: https://www.facebook.com/BeATrailBreaker/
The Vote for the #10th spot in 2018 will be set up come on August 1st on Facebook. Until then the drivers in next years battle will be as follows: