Maxxis Roxxzilla SXS Shootout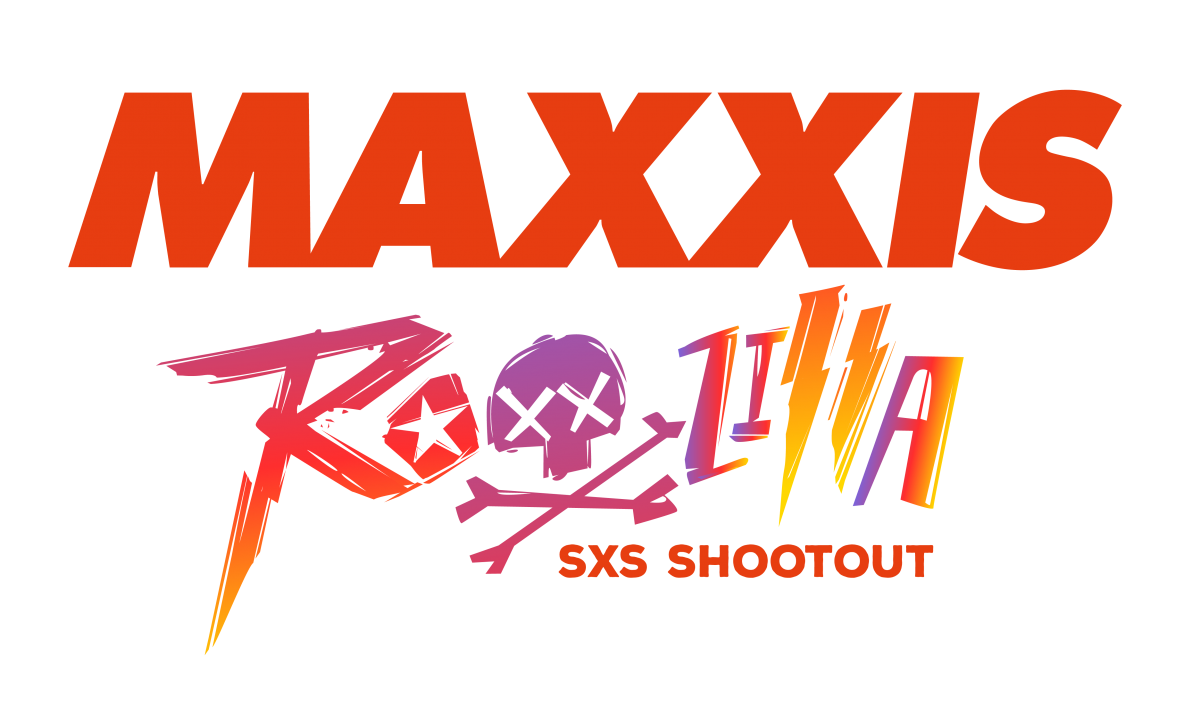 Side by Sides this year have a new challenge a head of them. Trail Hero has pushed the limits of 4 wheeled vehicles for years and now the focus is on designing and creating the most capable SXS/UTV ever known in existance. How do we do that? Set 16 of the best drivers on a nearly impossible trail to see if they have built the best vehicle possible to conquer Nasty Half (A 10 rated buggy trail at Sand Hollow). Drivers have been hand selected, either because they are known for being great driver's or because they are known for pushing their vehicle and luck on some of the biggest terrain.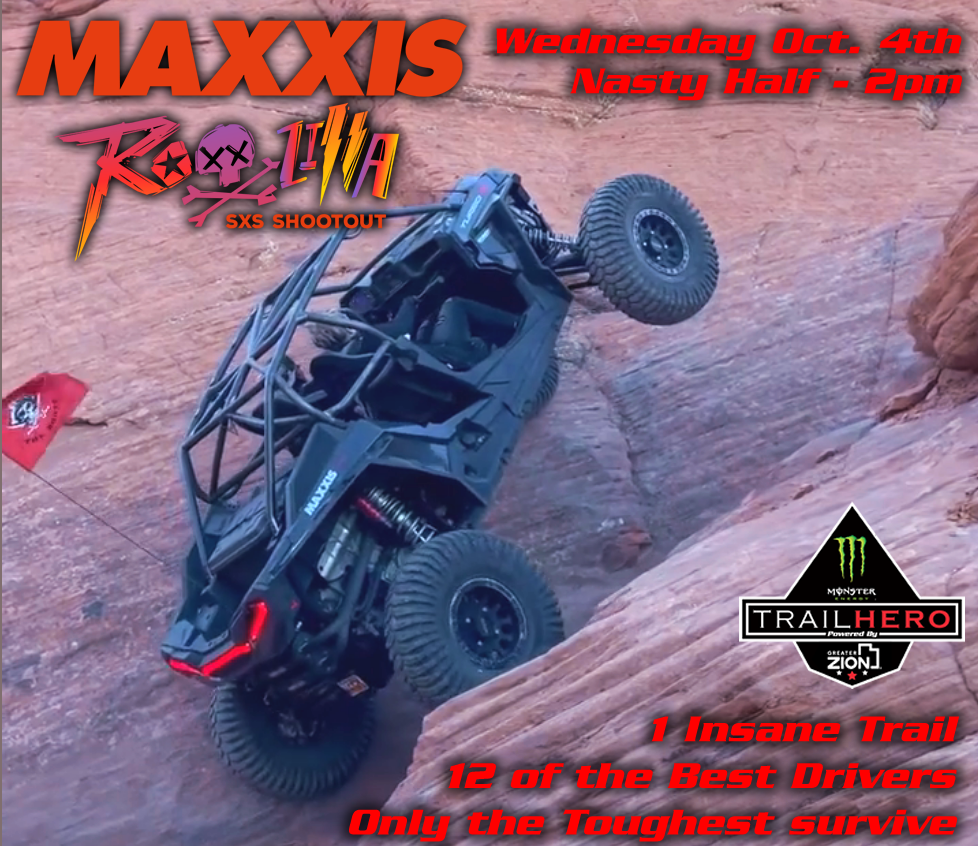 The List of Driver's are:
Braden Dalton: This guy is nuts. Driving a stretched Polaris XP1000 on Maxxis Tires, Braden has shown in countless viral videos what truly can be done with good driving and a little bit of a loose screw. Watch Braden climb and drop some insane terrain on his social media @_BradenDalton_
Steve Benson: Steve is one of the SXS industries leading engineers and designers, creating suspension and steering systems that rival anyone. Steve is the mad scientist behind adding rear steer to these incredible machines. Check out what Steve brings to the craziest racing as it is sure to be some next level tech!
Craig Stumph: Craig is one of the founders of hardcore rock crawling in buggies and jeeps, and now his is piloting a stretched RS1 with portals and Rear Steer. Knowing how to push technology and vehicle limits, watch for Craig to give all the drivers a run for their money.
Rob Christensen: Driving a stretched and boat sided Can-Am, Rob is known for the more extreme driving and trail riding where ever he goes. Rumor has it there may even be rear steer added by the Shootout as well. Either way he and his VooDoo Riders built rig will put the pressure on the rest of the field.
Royce Lauck: Royce has been all over Sand Hollow in his SXS and now he gets to drive a rental, like MadMoose Rental. This SXS is unlike the other SXS that get rented out though, I hear there is Rear Steer and portals in his future. This MadMoose Rentals driver will be driving his rig like it's a rental to the finish line, preferably on all 4 wheels.
Curt Miles: The boys from Slikrock Productions are gonna try their hand at this extreme race up Nasty Half. They have a TON of experience in hardcore and Sand Hollow, so look for them to rip it up and lay down an awesome time on the Nasty Half trail. 
Nick Shaw: Another Utah driver out of Manti, Nick and his 4 seat RZR on Maxxis tires knows full well how to get through the tough trails of Sand Hollow. Additionally Nick has volunteered taking special needs riders out during Trail Hero, proving that he will be a crowd favorite.
BJ See: A true rock crawler at heart, BJ will be piloting his Maxxis Tires equiped stretched RZR through the toughest of obstacles. Known for pushing the limits and finding a way to a complete the craziest terrain, look for BJ See to battle for the top spot.
Roger Martinez: has a CLEEEEAAAN 4 seat RZR with an awesome wrap, now he just has to get through the Nastiest of trails for SXS without ripping it apart ;) With Roger driving a 2022 Turbo R4 through the rocks and waterfalls for Nasty Half, look for him to prove that he belongs on the podium,
Justin Kee: This UTVPro will take his shot as a Sand Hollow local and guide for Trail Hero against some of the best driver's in the sport. Justin's trail knowledge and hometown advantage will play a roll in how he sits on top of the podium after the field of driver's try their hand at the hardest trail known for SXS.
Sonny Midson: Another local UTVPro will try has hand and push to become the top driver in this exciting new SXS sport. The race to the top is something that Sonny is used to and as a long time local of Southern Utah and long tenured rock sports driver, loock for Sonny to be the one stnding in the top spot on the podium. 
Kyle Wells: This photographer turned driver is going to give this incredible field of talent a run for their money. His RZR is equiped with some of the best parts in the industry and his talent tank will be full. Look for Kyle to capture the moment by piloting his SXS to the top spot.
Mike Hatch: Running a Kawasaki KRX will proved to be a huge advantage for Mike as the lower gearing and purpose built vehicle, along with Mike's skillset, will likely make the duo a tough team to overcome. Watch Mike attempt the impossible and succeed on Wednesday October 4th at Nasty Half Trail.
Cody Nygren: Cody is set up for the true test of what this event is all about. Question is will he be able to take his Militant Off-Road equipped SXS through hell and back while becoming victorious? Time will tell as he will surely give it his all!
Tristan Campbell: Driving a stretched xp1000 on 35" Maxxis Tires, Tristan's instagram is chalk full of crazy attempts and completions of tough obstacles at Sand Hollow. He should be putting on a great show for everyone to see on his way to the podium.
Jeff Tranter: Straight outta Moab, Jeff is gonna take his Pink Turbo S and go for the top spot. How will he fair? Will he get the crowd choice for the win because his ride is pink? Either way it's gonna be fun to watch him work his way up one of the nastiest trails in the country.
Paul Campbell: Another rzr with Maxxis Tires rounding out the field of drivers while pushing his rig to the absolute extreme. This field is crazy and Paul is no different. Watch while he tests his rig to the max and finds out whether he belongs on the top of the podium or not.
The field is full and no more drivers will be taken! Come watch this craziness go down at Nasty Half, October 4th!
A purse has been added by Revolution Offroad