:: BFGoodrich Tires :: Fury Rode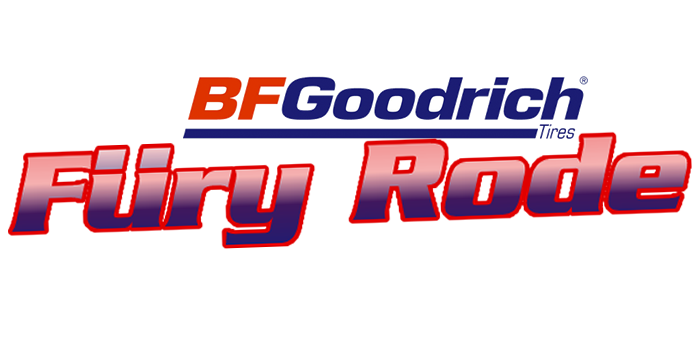 This is the ultimate FUN POKER RUN, filled with Challenges, highspeed riding, scenic views, and awesome stories. The Fury Rode is the result of wanting to host a non-race, race. Simply put, teams will navigate a 24 mile course with randomly placed challenges. Jeeps, trucks, and buggies will run 1 lap while SXS/UTV will run 2 laps, 4 challenges, and 48 miles of fun! If you are interested in Racing with us, please call Rich Klein at 530-409-4548. Stock SXS with roof with fire extinguishers. It is a blast, the challenges consist of a KMC Wheels Shooting Challenge, Fuel Wheels Short Course Challenge, The Rugged Radios Blindfold Challenge, The EFX Tire Change Challenge, the Tuff Country Challenge, and The CartoTracks Challenge. Fastest time acquired from all challenges win. Speed between challenges do not play a part in who wins.
Rugged Radios Blindfold Challenge:
Drivers will be blindfolded, co-pilots will be out of the vehicle. Drivers will navigate a rock terrain course by listening to the commands of the Co-Pilot. 
BFGoodrich Tire Change Challenge:
Driver and co-Pilot will remove a rear tire, roll it around the vehicle in either direction, and place the tire back on the vehicle. Time stops when the vehicle sits on it's own weight.
Tuff Country Challenge:
Teams must navigate a rock race course in the fastest time while using the flags as guides similar to a slolom course. This course however is TUFF, so driving the correct line is VITAL to your success.
CartoTracks Challenge:
What would a bedsheet have any place doing out int he middle of the desert? Well, drape that thing over your cab to eliminate visibility and use the EXTREMELY accurate map from Cartotracks to navigate a difficult course, drive off the trail and find out what happens next!
This feature will start at 2pm Wednesday, October 7th and is open to all to watch as this is a very spectator friendly race. The trail location is extremely close (within walking distance) to the Sand Hollow State Park parking area.
We have 8 classes: Stock (up to 33" tires), Modified (up to 35"), Full Body (up to 37" tires), Buggy (Up to 37"), Legends (full body, 40" tires), Pro Buggy (unlimited tire size), ::: ALL SXS WILL RUN 2 LAPS::: Stock UTV (Completely stock), and Super UTV (Any suspension/motor mods). Vehicles must be 4wd, have a winch, and essential safety items. It is a STRONG suggestion to have a co-pilot or crew chief.